Epicurean Atlanta Announces Plans For Signature Restaurant And Executive Chef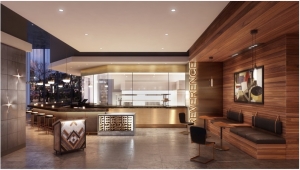 Reverence will Open Alongside the Hotel Late Summer 2021 Led by Chef Ewart Wardhaugh
ATLANTA, GA (March 24, 2021) –  Epicurean Atlanta, Midtown's soon-to-open food-focused hotel located at 1117 West Peachtree Street, is thrilled to reveal its signature restaurant, Reverence. Chef Ewart Wardhaugh has been tapped to oversee the concept evolution and menu development of Reverence, as well as the property's culinary program featuring the Epicurean Theatre.  
Meaning "appreciation and respect," the name Reverence is purposefully ambiguous and left up to guests' interpretation. For some, the respect may be rooted in the beauty and flavor found in nature's ingredients and, for others, the painstaking craftsmanship behind each bite. "Reverence is about creating synergy. Plates that speak to one another but can also stand alone; cuisine that sparks global interest, but made with local ingredients," says Chef Wardhaugh. "It's about creating an experience that roots you in Midtown, while promising a hint of exploration in every bite." 
Originally from Scotland, Wardhaugh's culinary prowess has landed him international appointments, including the Lanesborough Hotel in London, and the Raffles Hotel and Resort in Singapore. His first U.S. venture as Executive Sous Chef at the Bellagio in Las Vegas proved to be a major milestone, as he helped oversee its 22 food and beverage outlets. Wardhaugh continued his upwards trajectory at prestigious hotels in Barbados, Australia, and Dubai with cherished mentorship from Chef Grant MacPherson. Most recently, Wardhaugh acted as the regional Executive Chef for Wolfgang Puck Catering in Los Angeles, a multi-faceted company with catering, events, corporate dining, restaurants, and, most notably, the Oscars Governors Ball.
At Reverence, guests can expect cuisine that pays respect to the ingredients and producers of the Southeast region with options like coastal seafood, heritage meats and market-fresh produce featured on a seasonally changing menu. An early preview of the dinner menu includes dishes like Wild Foraged Sapelo Island Razor Clams Ceviche with sorrel pesto, tiny vegetables, stone creek micro watercress, finger lime caviar; Heron Farms Sea Bean Salad with fresh hearts of palm, feta, smoked sesame, bourbon ponzu, toasted freekeh and Reverence "Steak Frites" with dry aged Bern's Steak House ribeye, garlic rapini, mole verde and triple-cooked chips with parmesan salt. The extensive bar program will offer an excellent selection of local craft beers and spirits, like barrel-aged cocktails and seasonal classics. Guests can also look forward to non-alcoholic and low-ABV cocktail offerings, with harmonious concoctions complex in preparation that rival their spirited counterparts. The wine program looks to please all tastes, with a special emphasis on sparkling offerings and half-bottles suited for the business traveler. Reverence will open with nightly dinner service and weekend brunch service on Saturdays and Sundays.
In true Epicurean fashion, Reverence was created with artistry in mind, resulting in an almost exhibition-like experience. It's dazzling show kitchen is on full display, where guests can watch nimble movements and beautiful artistry come to life from the restaurant's culinary team members. Surrounding the show kitchen is an expansive, leather-wrapped, zinc bar top where patrons can pull up a chair, interact with chefs and enjoy the show. In addition to bar seating, patrons can also choose a comfortable lounge area, indoor seating or outdoor seating. The 2,886 square-foot space seats up to 127 and is outfitted with rich wood tones and luxurious textures, all illuminated with custom-suspended light fixtures to create a mood of sophistication and warmth. 
Upon opening, Reverence will offer dinner service from 5 – 10 p.m. on weekdays, 5 – 11 p.m. on weekends, and weekend brunch from 10:30 a.m. – 2 p.m.  
For images of site renderings and a headshot of Chef Ewart Wardhaugh, please click here. 
For media inquiries surrounding Epicurean Atlanta, please contact Brenda Richards, Green Olive Media, at [email protected]. 
To learn more, please visit EpicureanHotelAtlanta.com and follow along on Instagram and Facebook (@EpicureanAtlanta). 
ABOUT EPICUREAN ATLANTA | ATLANTA, GA
An immersive, culinary-driven hotel in the heart of Midtown, Epicurean Atlanta celebrates all the wonderful flavors that life has to offer. Opening mid-2021, guests will find inspiration behind elevated experiences that span culinary enrichment to impeccable hospitality. Epicurean Atlanta is the second location of the Epicurean Hotel brand, the first of which was a collaboration between Mainsail Lodging & Development and the legendary Bern's Steak House in Tampa, Fl. Founded in 1956 by husband-and-wife restaurateurs Bern and Gert Laxer, Bern's Steak House is world-renowned for their exceptional cuisine, use of fresh, quality ingredients, and their extensive wine cellar featuring more than half a million bottles. Epicurean Atlanta is a natural extension of this commitment to excellence, creating a fully-immersive experience that celebrates the teaching of its namesake, Epicurus. Inspired by urban chic design elements and modern styles, Epicurean Atlanta boasts 178 guest rooms including 22-spacious suites that give way to its sleek allure. Travelers will be whisked away by the hotel's amenities, including the Sky Terrace and its sweeping views, the gorgeous events lawn, and the innovative Epicurean Theatre where guests will watch, listen and learn from a curated lineup of incredible chefs, winemakers, mixologists and artists. Situated within the vibrant arts hub that is Midtown, guests can explore the bustling commercial area that's home to Piedmont Park and The High Museum of Art. Epicurean Atlanta is a member of Marriott International's Autograph Collection. 
For more information, visit www.epicureanhotelatlanta.com or call (833) 248-1670 to reserve.