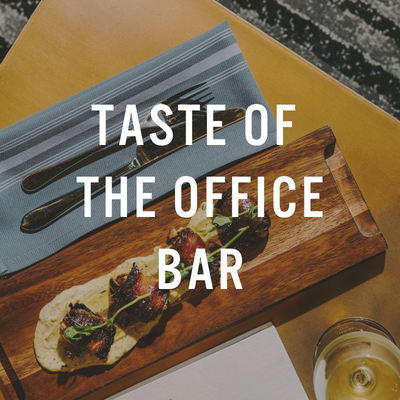 Taste of The Office Bar in the Epicurean Theatre
Schedule: Thursday, March 30, 6:00pm - 8:00pm
Price: $75.00
Tickets Available: 15
Venue: Epicurean Theatre
Event Information
Join us in the Epicurean Theatre for an evening of exploration and indulgence during an exclusive Taste of The Office Bar's newest dishes & cocktails! Enjoy a taste of The Office Bar's brand-new menu by Executive Chef, Henry Tapia, comprising of an upscale take on bar-food favorites made with the freshest of ingredients. Sommelier & Beverage Manager, Allison Hinson, will provide guests a cocktail presentation and coursed pairings from The Office Bar's revamped beverage menu of craft cocktails, beer, and whiskey.
MENU:
Cheese & Charcuterie
honey | jams | whole mustard | bread | crackers | pickled vegetables | fruit
Bacon Wrapped Date
orange ricotta mousse | rosemary aioli | fresno honey
Fried Chicken Wings
a wing sampler duo tossed in buffalo sauce & korean bbq sauce | served with buttermilk dressing & chipotle aioli | celery & carrot salad
Chopped Salad
mixed lettuce | cherry tomato | pickled onion | avocado | bacon | braised chicken | hardboiled egg | tarragon vinaigrette
Smashed House Burger Slider
romaine lettuce | tomato | vermont cheddar | pickles | house dressing | potato bun
Homage to Bern's Steak House Sandwich
seared sirloin | steak sauce | onion jam | rosemary aioli | swiss cheese | rustica ciabatta
ABOUT THE TALENT
Chef Henry Tapia, Executive Chef at Epicurean Atlanta – Chef Tapia, who oversees all culinary operations for Epicurean Atlanta, including The Office Bar, brings over 10 years of experience working in the finest hotel kitchens on both the East and West Coast. Prior to that, he spent a decade in the central region of Mexico, specifically Puebla, where he worked at his mother's restaurant and cultivated a passion for cooking from the heart with locally sourced, seasonal ingredients – this same passion influenced his approach to The Office Bar menu.
Allison Hinson, Sommelier & Beverage Manager at Epicurean Atlanta – Allison is a highly skilled beverage professional with experience in several major markets across all spectrums of the industry. In addition to being a Certified Sommelier, Allison holds respected beverage accreditations including Certified Specialist of Wine, Certified Specialist of Spirits, Certified Wine Sherry Specialist. A welcomed new addition to the Epicurean Atlanta team, Allison brings a wealth of wine wisdom to our Epicurean tables with several years of hotel & restaurant experience to offer.
PARKING
Complimentary 2-hour valet only validation is provided.
PRICE
Ticket Price: $75
FINE PRINT
No menu substitutions please.
Gratuity is already included in ticket price. Tax will apply during checkout.
Cancellations made up to 48 hours before the event will be refunded 100%. Under 48 hours there will be no refunds.
Third party ticketing sites are not affiliated with Epicurean Atlanta. Tickets cannot be marked up or resold. Only tickets purchased on-property at the hotel front desk or online at www.epicureanhotelatlanta.com are valid for entry.