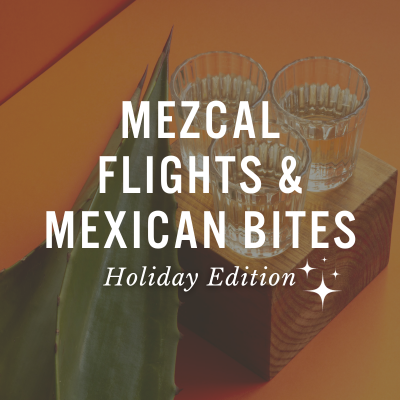 Mezcal Flights & Mexican Bites: Holiday Edition
Schedule: Friday, December 15, 6:00pm - 7:30pm
Price: $55.00
Tickets Available: 20
Venue: Epicurean Theatre
Event Information
In this educational tasting of five heritage agave spirits, Lou Bank walks attendees through a Mezcal tasting that showcases a different region of Mexico with each pour, while Epicurean Chef, Stephanie Echeverria, provides insight behind her holiday-inspired menu of Oaxacan small plates. Learn about all the reasons why people continue to be drawn to Mezcal, learn some of the false narratives that make these spirits seem confusing, and uncover some of the unknown truths that make them more confusing still.
Tickets are $55 per person – each ticket includes a mezcal welcome cocktail, a tasting of five heritage agave spirits, a trio of holiday-inspired Mexican small plates, and an educational introduction to tequila's smoking hot cousin, Mezcal!
Plus, attendees who choose to visit one of our bars or restaurants before or after the event will receive a 10% off offer. Explore all our on-property dining options here.
MENU
*In addition to the trio of small plates, guests will enjoy a mezcal welcome cocktail and a 5-mezcal tasting
OAXACAN TLAYUDA DE FRIJOL (GF) (VGN) (V)
ensalada de nopales : salsa de molcajete : cilantro
TACO DE TIANGUIS
chapulin salteado : tortilla de guajillo : peral onion : avocado espuma
MIXIOTE CARNERO (GF)
adobo salsa : hoja de maguey : arroz blanco
VGN Vegan | V Vegetarian | GF Gluten Free
Presenter Lou Bank has sold more copies of a single comic book than anyone else in America. He helped bring Pokémon to the masses, Star Wars to the cereal aisle, and Morimoto to the beer geeks. But for this tasting, you're probably more interested in the fact that he founded SACRED, a 501c3 not-for-profit that helps improve quality of life in the rural Mexican communities where heritage agave spirits are made, and is the cohost of Agave Road Trip, a podcast that helps bartenders better understand agave spirits. Lou won the Golden Spirits Award from Tales of the Cocktail for his 2018 presentation, "So you think you know mezcal…?"
PARKING
Complimentary 2-hour valet validation is provided.
PRICE
Ticket Price: $55
*Gratuity is already included in ticket price. Tax will apply during checkout.
FINE PRINT
This event is 21+.
No menu substitutions.
Gratuity is already included in ticket price. Tax will apply during checkout.
Cancellations made up to 48 hours before the event will be refunded 100%. Under 48 hours there will be no refunds.
Third party ticketing sites are not affiliated with Epicurean Atlanta. Tickets cannot be marked up or resold. Only tickets purchased on-property at the hotel front desk or online at www.epicureanhotelatlanta.com are valid for entry.