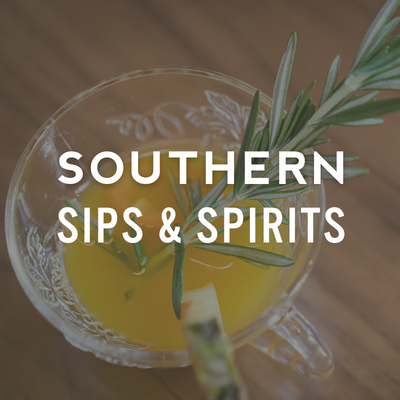 Southern Sips & Spirits
Schedule: Thursday, July 21, 7:00pm - 9:00pm
Price: $100.00
Tickets Available: 36
Venue: Epicurean Theatre
Event Information
Join us in the Epicurean Theatre for a spirited dinner & tasting event showcasing a selection of celebrated spirits from across the South. Don't miss this sensory experience that celebrates liquor, beer, and wine drinking in the American South from some the region's most innovative distilleries and wineries!
Ask anyone to name a uniquely Southern drink; Sazerac, Mint Julep or Moonshine are usually among the first responses. But, what about award winning locally crafted beer, or seltzer made with Georgia mountain water, or even a white port made with muscadine, a grape native to the American South? The heritage of southern spirits celebrates refreshing drinks known to beat the heat, and more refined beverages created from classic spirits and cocktails of the pre-prohibition South. From Georgia to Tennessee, a new breed of distillers and brewers are crafting complex spirits that are stocking bars across the country. So, let's go bottoms up with some of the Southern spirits that have defined a regional drinking culture and learn more about the masters behind each sip in this spirited dinner and tasting event!
Southern Sip & Spirits features delicious coursed pairings from Executive Chef Ewart Wardhaugh of Epicurean Atlanta with award-winning local beer from Wild Leap, the only Absinthe Seltzer in the U.S., made right here with Georgia mountain water from the OLDKNOW Bev Co., the #1 moonshine and flavored whiskey company in the country, Ole Smoky Distillery, a local wine that took home a 2022 San Francisco Chronicle Wine Competition Award from Chateau Elan and a three-year-old VS, VSOP and XO blended Revanche Cognac, one of Atlanta's most popular cognacs.
ABOUT THE BEVERAGE TALENT
OLDKNOW Bev Co. | Ryan Wood, Co-Founder/Owner
OLDKNOW Bev Co. was founded in 2021 by Mary Catherine Matheny (MC) and Ryan Warner Wood. Both artists and drinkmakers, the two founded the distillery that celebrates virgin mountain water and exquisite quality spirits. Located in Rabun Gap in the Blue Ridge Mountains of Georgia, OLDKNOW Bev Co. utilizes clean and crisp mountain water and fresh herbs to create their line of spirited seltzers.
Wild Leap Brew Co. | Justin Ruth, National Accounts Director
Wild Leap Brew Co. is a Craft Beverage Company based in LaGrange Georgia. The 2021 Brewery of the Year from Beer Connoisseur magazine creates inventive and approachable craft beer, signature craft vodka, MYGoTu ready-to-drink premium cocktails, ready-to-drink vodka cocktails. Wild Leap will be opening this year in Atlanta's Centennial Yards.
Ole Smoky Distillery | Melissa Cain, Territory Sales Manager North Georgia
Ole Smoky is the leading distiller of premium moonshine in the world, the leading craft distiller in the US and the first federally licensed distillery in the history of East Tennessee. Founded in 2010, Ole Smoky's roots are traced to the Smoky Mountains' earliest settlers, families who produced moonshine with enduring pride and Appalachian spirit. Today, Ole Smoky retails in all 50 states and over 20 countries around the world and offers more than 25 creative moonshine flavors and 17 inventive whiskey flavors.
Chateau Elan Winery | Simone Bergese, Executive Winemaker & Winery CEO
Chateau Elan Winery has emerged as one of the largest and most awarded wineries on the East Coast. We're honored to offer more than 30 wines produced with grapes grown in our Braselton and south of Georgia vineyards, as well as grapes hand-picked and transported, whole cluster, in refrigerated trucks from California's Lake County and Clarksburg regions.
Revanche is a hand-crafted, quality blend of select vintages, made with the finest grapes from Cognac, France. Revanche – meaning "revenge" in French. The cognac launched here in Atlanta and continues to be the #1 market for the cognac brand. Revanche was awarded the 2022 Gold Medal for Best Cognac VS by the San Francisco World Spirits Competition.
ABOUT THE CHEF
Epicurean Atlanta | Ewart Wardhaugh, Executive Chef
With an innate passion for cooking, Wardhaugh's interest took root at home where he grew up in a culinary household, helping host his family's dinner parties. At 15, his first stint as a dishwasher sealed his fate in the industry and his life was soon engulfed by the culinary world. Throughout his career, Wardhaugh embarked on a world tour that led him to the Lanesborough Hotel in London, and the Raffles Hotel and Resort in Singapore. His first U.S. venture at the Bellagio in Las Vegas proved to be a major milestone, as he oversaw its 22 food and beverage outlets. Wardhaugh continued his upwards trajectory at prestigious hotels around the world, including Barbados, Australia, and Dubai.
Most recently, Wardhaugh acted as the regional executive chef for Wolfgang Puck Catering in Los Angeles, a multi-faceted company with catering, events, corporate dining, restaurants, and, most notably, the Oscars Governors Ball. With years under his belt, Wardhaugh was named a finalist in the Académie Culinaire de France's Annual Award of Excellence, a Salon Culinaire winner, a semifinalist in the gourmet category of the Taste of Scotland Challenge, and a finalist for the "Young Scottish Chef of the Year" at age 20. With a hand in menu development, training implementation, menu tasting activities and global industry trends, Wardhaugh looks to create his place within the buzzing culinary scene of Atlanta as Executive Chef at Epicurean Atlanta.
MENU
*Coursed food pairings will accompany each spirit partner.
OLDKNOW Bev Co.
Featured Sips:
Verte Absinthe The first ready-to-drink Absinthe Seltzer in the US. Made with mountain water, with a light green, Verte appearance, the seltzer's nose is candied lemon and licorice with a light honey, lemon and apple smooth taste.
Vodka Seltzer Made with vodka, oolong tea, grapefruit and lychee, this seltzer is barely golden with a floral candy nose, this seltzer has a light earthy rose and citrus taste, almost dry and fruity.
Gin Seltzer Made with gin, cucumber and mountain mint, this seltzer is crystal clear with melon and mint on the nose, and a clean herbal cucumber light and crisp taste.
Wild Leap Brew Co.
Featured Sips:
Local Gold A blonde ale, a hybrid style that blends elements of a German Kolsch, English Bitter and American Blonde Ale to create a dry, crisp, light and refreshing ale that is enjoyable year-round.
Chance IPA An "easy-drinking" IPA similar to Northeastern or East Coast styles in malt balance, haze and hop aromas. The juicy hop blend creates grapefruit, melon, strawberry and passion fruit aromas to give the beer a soft bitterness.
LMN ADE A sour ale with Meyer Lemon, vanilla bean and milk sugar.
Ole Smoky Distillery
Featured Sips:
Ole Smoky Moonshine Pickles Perfect dill pickles, pickled in their famous moonshine. Firm, crunchy and dill-icious, you can munch on it and then have a dill pickle shot to follow.
Ole Smoky Pineapples with Pina Colada Sweet pineapples steeped in Ole Smoky® Pina Colada Moonshine. Juicy, sweet and hints of coconut.
Ole Smoky Mango Habanero Whiskey A little sizzle with your sweetness. The sweet taste of mango and complemented it with a spicy habanero pepper finish.
Ole Smoky Peanut Butter Whiskey Sweet, creamy flavor of a peanut butter cookie blended perfectly with their smooth whiskey.
Simone Bergese, Executive Winemaker & Winery CEO
Featured Sips:
Montepulciano Fingerprint Collection Red Wine A balanced, soft, complex, and elegant characteristics of red fruit, plum, blackberry, spicy hints of cinnamon and black pepper as well as toasted aromas such as vanilla, coffee, cocoa, tobacco, and hazelnut.
Bianco Port Wine An extremely unique wine can be classified as a white Port. Its color is an intense amber and the flavors range from brown sugar to complex and pronounced notes of honey, dried fruit, and licorice.
Revanche Cognac
Featured Sip:
Sunset Dreams Cocktail (made with Revanche Cognac) A high-quality blend of VS, VSOP and XO, designating it a VSXO Cognac. It has an amber-gold color with aromas of coffee, cacao, pepper and hints of candied prunes.
PARKING
Complimentary 3-hour valet validation is provided.
PRICE
Ticket Price: $100
*Gratuity is already included in ticket price. Tax will apply during checkout.
*Third party ticketing sites are not affiliated with Epicurean Atlanta. Only tickets purchased on-property at the hotel front desk or online at www.epicureanhotelatlanta.com are valid for entry.