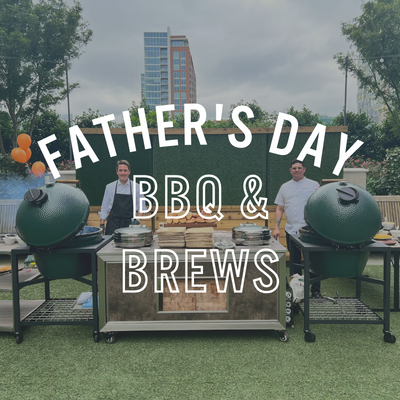 Father's Day BBQ & Brews on the Sky Terrace Lawn
Schedule: Sunday, June 18, 12:00pm - 4:00pm
Venue: 9th Level Sky Terrace Lawn, Located at Epicurean Atlanta
Event Information
This Father's Day, treat dad to a feast of Epicurean proportions with a bottomless BBQ on our 9th level sky terrace lawn from 12-4pm! Enjoy dozens of delicious menu selections from our chef action stations featuring Epicurean Atlanta's trio of restaurants – Reverence, The Office Bar, and Aerial Kitchen & Bar! Eat, drink, and enjoy fun lawn games with dad, while taking in the city views atop our 9th level sky terrace!
Plus, every dad will enjoy a complimentary ice-cold beer on us! Our lawn bar is available for alcoholic beverage purchases. Cheers!
Tickets are available for purchase as an OpenTable Experience here. | Adults: $65++ | Children (12 & under): $25++
*Seating is communal & outdoor only. A full refund will be provided if event is cancelled due to inclement weather.
MENU:
Reverence Station: Herb Marinated Flat Iron Steak, Miso BBQ Salmon, Chili Lime Broccolini, Bravas Ripped Potatoes, Loaded Baked Potato Bar (Chopped Bacon| Spanish Chorizo| Salami| Charred Corn| Pickled Onion| Jalapeno| Cheddar Cheese| Smoked Gouda| Gruyere Cheese| Chipotle Crema| Buttermilk Dressing | Scallions)
The Office Bar Station: Grilled Buffalo Chicken Skewers, Grilled K-Town Beef Skewers, Homage To Bern's Steakhouse Sandwich, Nashville Fried Chicken Sliders, Chopped Salad Bar (Mixed Lettuce | Cherry Tomato | Pickled Onion | Avocado | Bacon | Braised Chicken | Hardboiled Egg | Tarragon Vinaigrette | Chipotle Ranch)
Aerial Kitchen & Bar Station: Carnita Asada Tacos, Cauliflower Alpastor Tacos, TJ Perro Caliente (Kielbasa | Bacon | Chipotle Aioli | Pico De Gallo |Queso Fresco | Crispy Shallot), Mini Cheese Hamburgesas, Elote Callejero
Dessert Station: Passion Fruit Panna Cotta, Chocolate S'mores Tart, Churros with Caramel & Chocolate Sauce, Bread Pudding, Cotton Candy