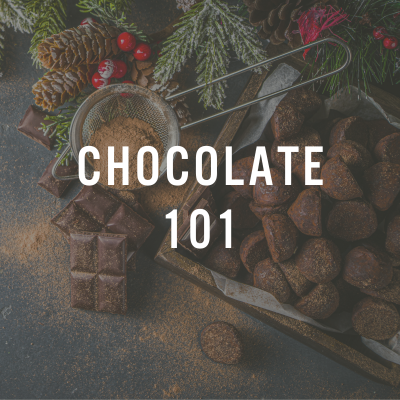 Chocolate 101
Schedule: Saturday, December 16, 1:30pm - 3:00pm
Price: $35.00
Tickets Available: 21
Venue: Epicurean Theatre
Event Information
When we talk about wine, we talk about grape varietals. When we talk about beer, it's hops and malts. But chocolate…? It seems like the only thing you ever see on the package of the fanciest chocolate is where the cacao came from, or maybe how it was processed. But, we don't typically hear about the wonderful varieties of cacao beans before they become bars…until now!
In this educational chocolate tasting, Lou Bank gives an introduction into cacao bean varieties before they become the chocolate bars we all know & love. You'll discover all kinds of cacao varietals & how the different places of origin influences the flavors and aromas, while you taste & sample along the way!
Tickets are $35 per person – each ticket includes a welcome cacao cocktail, a tasting of five chocolates, a cacao seed sampling, along with educational insight from Lou Bank about all things cacao!
Plus, attendees who choose to visit one of our bars or restaurants before or after the event will receive a 10% off offer. Explore all our on-property dining options here.
PARKING
Complimentary 2-hour valet validation is provided.
PRICE
Ticket Price: $35
*Gratuity is already included in ticket price. Tax will apply during checkout.
FINE PRINT
Guests must be 21+ to enjoy the welcome cocktail. Non-alcoholic option is available upon ADVANCE request.
Gratuity is already included in ticket price. Tax will apply during checkout.
Cancellations made up to 48 hours before the event will be refunded 100%. Under 48 hours there will be no refunds.
Third party ticketing sites are not affiliated with Epicurean Atlanta. Tickets cannot be marked up or resold. Only tickets purchased on-property at the hotel front desk or online at www.epicureanhotelatlanta.com are valid for entry.