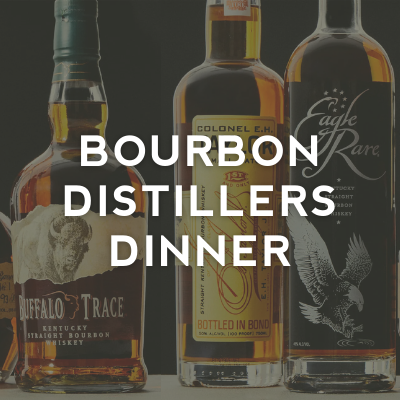 Bourbon Distillers Dinner at Reverence
Schedule: Friday, June 3, 6:30pm -
Price: $150.00
Tickets Available: 58
Venue: Reverence
Contact:
p: 470.283.2590
e:

[email protected]
Event Information
Join us at Reverence for a bourbon experience with an exclusive tasting led by Buffalo Trace's Master Blender, Drew Mayville, and a 4-course dinner curated by Reverence Chef, Ewart Wardhaugh!
ABOUT THE MASTER BLENDER
Drew Mayville, Master Blender and Director of Quality at Buffalo Trace
Drew Mayville has more 40 years of experience with some of the largest companies in the beverage alcohol industry. Drew joined Sazerac (at its Buffalo Trace Distillery location) in 2004 as the Master Blender and Director of Quality. The vast breadth of his experience comes from almost 23 years of experience with Seagram's. While at Seagram's his progressive experience encompassed all areas of manufacturing, including the Distillery, Quality, Bottling, Packaging QA and Specifications, Blending, and Technical Services for North America. Drew was the last Master Blender to serve under the Seagram dynasty.
At Sazerac, Drew has worked hands on with all the award-winning products produced at Buffalo Trace in addition to the other highly acclaimed spirit categories of the company. Drew is active in overseeing a number of award-winning products produced at various locations for Sazerac, and promoting and educating the public on some of the world's finest spirits. His passion is not only to make the finest quality products but also to delight and excite the consumer with his work.
Drew, a native Canadian, is a Senior Member of the American Society for Quality and has been certified as an ASQ Quality Engineer since 1987. He holds a Bachelor of Science degree from the University of Waterloo, Waterloo, Ontario, Canada.
ABOUT THE CHEF
Ewart Wardhaugh, Executive Chef at Reverence & Epicurean Atlanta
With an innate passion for cooking, Wardhaugh's interest took root at home where he grew up in a culinary household, helping host his family's dinner parties. At 15, his first stint as a dishwasher sealed his fate in the industry and his life was soon engulfed by the culinary world. Throughout his career, Wardhaugh embarked on a world tour that led him to the Lanesborough Hotel in London, and the Raffles Hotel and Resort in Singapore. His first U.S. venture at the Bellagio in Las Vegas proved to be a major milestone, as he oversaw its 22 food and beverage outlets. Wardhaugh continued his upwards trajectory at prestigious hotels around the world, including Barbados, Australia, and Dubai.
Most recently, Wardhaugh acted as the regional executive chef for Wolfgang Puck Catering in Los Angeles, a multi-faceted company with catering, events, corporate dining, restaurants, and, most notably, the Oscars Governors Ball. With years under his belt, Wardhaugh was named a finalist in the Académie Culinaire de France's Annual Award of Excellence, a Salon Culinaire winner, a semifinalist in the gourmet category of the Taste of Scotland Challenge, and a finalist for the "Young Scottish Chef of the Year" at age 20. With a hand in menu development, training implementation, menu tasting activities and global industry trends, Wardhaugh looks to create his place within the buzzing culinary scene of Atlanta as Executive Chef at Epicurean Atlanta.
Wheatley Vodka Welcome Cocktail
Buffalo Trace
Eagle Rare 10yr.
E.H. Taylor Jr.
Weller (full proof)
PARKING
Complimentary 3-hour valet validation is provided.
PRICE
Ticket Price: $150
*Gratuity is already included in ticket price. Tax will apply during checkout.
TABLES & SEATING
Event seating will be communal style. For parties of two or more, please be sure to purchase all tickets for your group as a single order to be seated together.
Group seating requests are not guaranteed, but we will do our best to accommodate as space allows.
*Third party ticketing sites are not affiliated with Epicurean Atlanta. Only tickets purchased on-property at the hotel front desk or online at www.epicureanhotelatlanta.com are valid for entry.