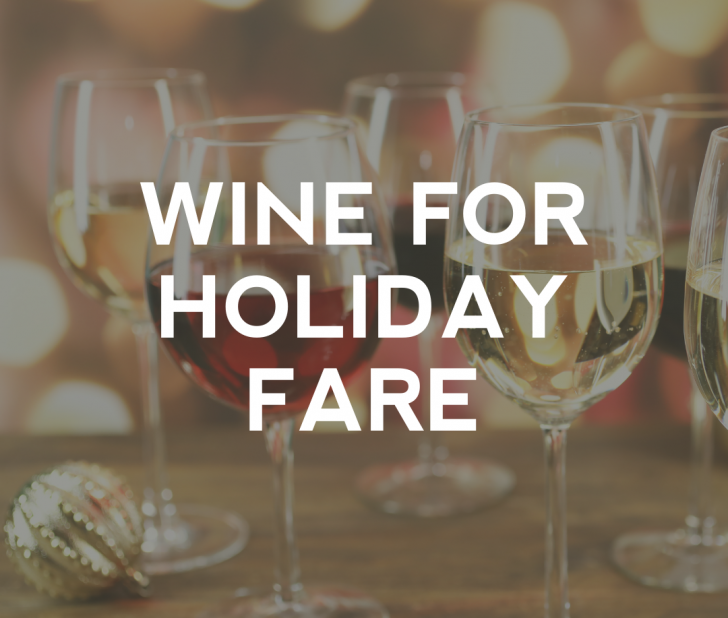 WINE FOR HOLIDAY FARE
Schedule: Saturday, December 18, 4:00pm - 6:00pm
Price: $125.00
Tickets Available: 34
Venue: Epicurean Theatre
Event Information
EVENT INFORMATION
Jane Garvey (wine educator) & Ewart Wardhaugh (Epicurean Atlanta)
Everybody has different ideas about what makes a good traditional holiday meal. Staple foods and key dishes vary from one culture – and country – to another. From seafood in Spain, to kosher foods for Hanukkah, there is much to be explored in the realm of holiday fare. And when family gathers, there will likely be a variety of wine preferences, from dry to sweet, and from white to pink to red. In this wine and food pairing, we'll explore a range of wines from a wide swath of wine regions that will pair well with a broad selection of holiday flavors. From classics to some novel ideas, there is nothing better during the holiday season than a good surprise.
MENU
Potato Latkes, Apple Sauce, Sour Cream
Festive Scallop Pork Belly Siu Mai
Basque Marmitako Salad, Fingerling Potatoes, Green Chili Sofrito Mojo
Egyptian Roast Leg of Lamb "Fattah" Pomegranate Eggplant, Tahini Labneh
Sweet Grass Griffin Grits Cheesecake
*Wine pairings provided to accompany each course
ABOUT THE TALENT
Jane F. Garvey
Jane F. Garvey holds a doctorate in Romance languages from the University of Georgia, and uses that skill set to visit wineries all over the world, from Europe to the United States and Canada, as well as the southern hemisphere. She has written about wine for The Atlanta Journal-Constitution, the Atlanta Wine Report, the newsletter for the Atlanta Wine School, and Lake Oconee Living magazine. She has taught wine classes for a variety of private clients. Currently, she is on the board of the Georgia Trustees Wine & Spirits Competition, which she co-founded with two colleagues, to recognize the quality of Georgia's rapidly growing wine world, as well as meads, ciders and distilled spirits. Jane also writes regularly for Georgia magazine, published by Oglethorpe Power. She holds the Certified Specialist of Wine designation granted by the Society of Wine Educators. Glassware and serving temperature issues will also be presented.
Ewart Wardhaugh
With an innate passion for cooking, Wardhaugh's interest took root at home where he grew up in a culinary household, helping host his family's dinner parties. At 15, his first stint as a dishwasher sealed his fate in the industry and his life was soon engulfed by the culinary world. Throughout his career, Wardhaugh embarked on a world tour that led him to the Lanesborough Hotel in London, and the Raffles Hotel and Resort in Singapore. His first U.S. venture at the Bellagio in Las Vegas proved to be a major milestone, as he oversaw its 22 food and beverage outlets. Wardhaugh continued his upwards trajectory at prestigious hotels around the world, including Barbados, Australia, and Dubai.
Most recently, Wardhaugh acted as the regional executive chef for Wolfgang Puck Catering in Los Angeles, a multi-faceted company with catering, events, corporate dining, restaurants, and, most notably, the Oscars Governors Ball. With years under his belt, Wardhaugh was named a finalist in the Académie Culinaire de France's Annual Award of Excellence, a Salon Culinaire winner, a semifinalist in the gourmet category of the Taste of Scotland Challenge, and a finalist for the "Young Scottish Chef of the Year" at age 20. With a hand in menu development, training implementation, menu tasting activities and global industry trends, Wardhaugh looks to create his place within the buzzing culinary scene of Atlanta as Executive Chef at Epicurean Atlanta.
PARKING
Complimentary 3-hour valet validation is provided.
PRICE
Ticket Price: $125
*Gratuity is already included in ticket price. Tax will apply during checkout.