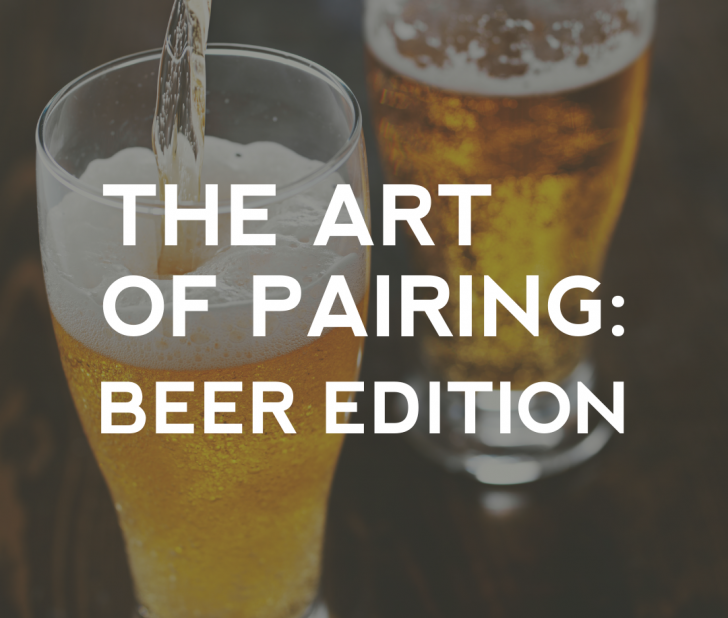 The Art of Pairing: Beer Edition
Schedule: Friday, January 21, 5:00pm - 7:00pm
Price: $85.00
Venue: Epicurean Theatre
Event Information
Featuring Ian Wilmot (Fire Maker Brewing) & Ewart Wardhaugh (Epicurean Atlanta)
With the craft beer scene taking the country by storm in the last decade, the art of pairing has reached a whole new level, with barriers being broken, and beer taking a seat at the table. Pairing food with beer is a welcomed addition to our epicurean endeavors, and just like wine pairing, is an art that stems from knowing your flavors, and how to complement and work together to accentuate both the beer and the bite. Led by Fire Maker Brewing Company based here in Atlanta, this food & beer tasting will walk you through various Fire Maker brews, along with exclusive in-house beers brewed in collaboration with the Epicurean that you can only find here. These unique beers will be paired alongside dishes that go beyond the obvious "bar food" and elevate the game to a whole new level, utilizing beer in cooking itself, and showcasing that beer can pair with composed, hand-crafted dishes. Join us in the Epicurean Theatre as we welcome our friends and collaborators for a intro to beer and food pairings, through a multi-course experience.
MENU
1st COURSE
Citrus Cured Black Grouper : Zucchini Latke : Lemon Drop Hop Vinaigrette
Fire Maker "Way Down Yonder" + "Bromeo & Juliette"
2nd COURSE
Salad of Compressed Seasonal Fruit : Matcha Sorbet : Seaweed Scallion Oil
Fire Maker "Chattahooch-Tea"
3rd COURSE
Malaysian Wagyu Beef Satay : Korean Steamed BBQ Sweet Potato Bun : Chunky Peanut Sauce
Fire Maker "Hazed & Blazed" & "Perfect Match"
4th COURSE
Drunken Duck "Chili" Espresso Mole : Oaxaca Cheese Quesadilla : Sour Cream
Fire Maker "Love You Latte"
5th COURSE
Chocolate Gingersnap Tart : Orange Carrot Curd : Fleure de Sel
Firemaker "Epicurious"
ABOUT THE TALENT
Ian Wilmot (Fire Maker Brewing)
Ian is a native Atlantan who grew up in East Point, GA then moved to Marietta, GA. You can often find him at local pubs, restaurants, and shops spreading beer love and knowledge about the brewery. Ian loves and studies all things beer, brewing, and craft. He has spent several years in the Georgia craft industry working with multiple breweries, vineyards, and restaurants, where he's connected with the community and gotten the opportunity to learn from some of best craft makers in the state. Bringing over 2 decades of experience in hospitality and culinary arts, he began his journey at a small family-owned restaurant when he was just a teenager, then expanded to brewing and wine making years later. His love for making things by hand grew into a passion for the craft industry after college. His enthusiasm for beer and food pairing has grown into a career and a mission to teach, entertain, and spread beer love everywhere he goes.
Ewart Wardhaugh (Epicurean Atlanta)
With an innate passion for cooking, Wardhaugh's interest took root at home where he grew up in a culinary household, helping host his family's dinner parties. At 15, his first stint as a dishwasher sealed his fate in the industry and his life was soon engulfed by the culinary world. Throughout his career, Wardhaugh embarked on a world tour that led him to the Lanesborough Hotel in London, and the Raffles Hotel and Resort in Singapore. His first U.S. venture at the Bellagio in Las Vegas proved to be a major milestone, as he oversaw its 22 food and beverage outlets. Wardhaugh continued his upwards trajectory at prestigious hotels around the world, including Barbados, Australia, and Dubai.
Most recently, Wardhaugh acted as the regional executive chef for Wolfgang Puck Catering in Los Angeles, a multi-faceted company with catering, events, corporate dining, restaurants, and, most notably, the Oscars Governors Ball. With years under his belt, Wardhaugh was named a finalist in the Académie Culinaire de France's Annual Award of Excellence, a Salon Culinaire winner, a semifinalist in the gourmet category of the Taste of Scotland Challenge, and a finalist for the "Young Scottish Chef of the Year" at age 20. With a hand in menu development, training implementation, menu tasting activities and global industry trends, Wardhaugh looks to create his place within the buzzing culinary scene of Atlanta as Executive Chef at Epicurean Atlanta.
PARKING
Complimentary 3-hour valet validation is provided.
PRICE
Ticket Price: $85
*Gratuity is already included in ticket price. Tax will apply during checkout.
*Third party ticketing sites are not affiliated with Epicurean Atlanta. Only tickets purchased on-property at the hotel front desk or online at www.epicureanhotelatlanta.com are valid for entry.