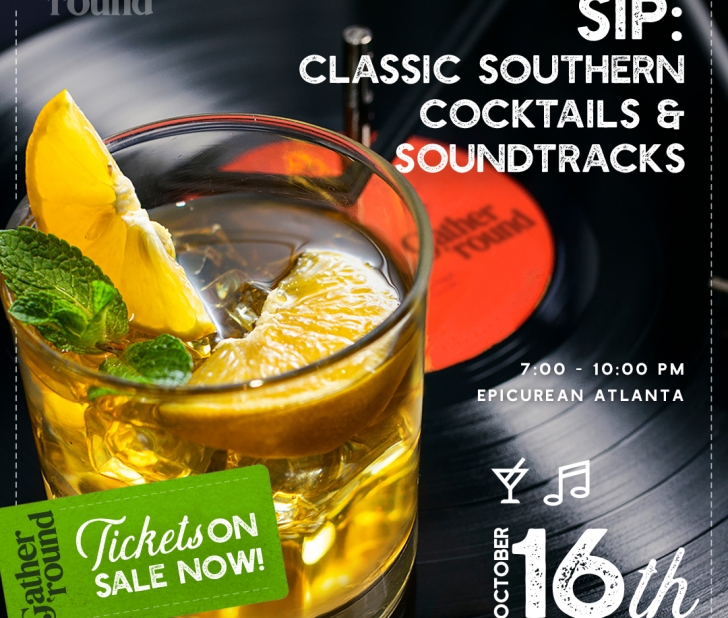 SIP: CLASSIC SOUTHERN COCKTAILS & SOUNDTRACKS
Schedule: Saturday, October 16, 7:00pm - 10:00pm
Venue: Epicurean Atlanta 1117 West Peachtree Street Atlanta, GA 30309
Event Information
SIP: CLASSIC SOUTHERN COCKTAILS & SOUNDTRACKS
Join us for an all-inclusive walk around tasting event with over 30 stations curated by some of the South's best culinary & beverage talent!
When considering "classic cocktails", the list goes hand-in-hand with the South. From Sazeracs & Mint Juleps to Chatham Artillery Punch, many of our most beloved libations have a history deeply rooted in our region. The South is also the birthplace of jazz, blues, country & rock 'n roll. In no other area of the country does sound & flavor blend so beautifully as they do right here in our own backyard. Join us as we celebrate not only the cocktails that created our passion for these delicious flavors, but also the sounds that set the stage. Celebrating the distinct cocktail & musical cultures of the South on a micro level, from a blues bar in the Delta serving up a classic Ramos Gin Fizz to the coastal inspired Tiki bar stirring up a Rumrunner, Sip will spotlight the bond between music & drinks, each with a perfect paired bite.
FEATURED TALENT INCLUDES:
Tiffanie Barriere, Chris Belk, Adam Hyatt, Chad Johnson, Jose Medina Camacho, Keyatta Mincey Parker, Bob Peters, Gerald Sombright, Michael (Sully) Sullivan, Kellie Thorn & more!