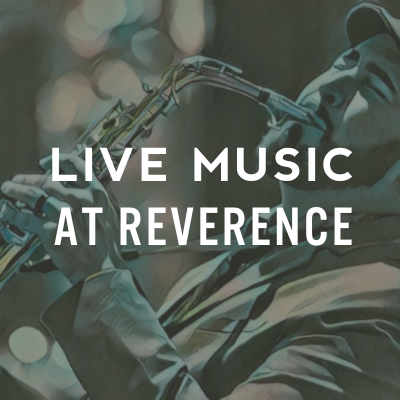 Live Music on the Patio at Reverence
Schedule: Tuesday, September 5, 5:00pm - Tuesday, October 31, 9:00pm
Venue: Reverence
Event Information
Every Tuesday, join us on the patio at Reverence to enjoy alfresco dining & the musical stylings of Rich Gunderlock! Live music will be available from 5-9PM.
Reservations are encouraged, but not required. Alfresco seating is available upon request.
ABOUT THE ARTIST
Rich Gunderlock's dad took him to the U2 Achtung Baby tour at the Philadelphia Spectrum back in 1992, and it lit a fire for music that continues to burn in his life today. Drawing inspiration from a wide variety of popular music — everything from Motown to Nirvana — Rich grew up sharpening considerable talents on saxophone, guitar, and piano; earning 3 degrees in music, playing in multiple bands and publishing countless songs.
Originally a Pennsylvania native, Rich moved to Atlanta in 2001 and has established himself in the local scene (and subsequently discovered a love for country music as well). He manages The Retreat, one of the southeast's most popular party bands, and performs regularly at venues throughout the Atlanta area, including past weekly residencies at the Ritz-Carlton and the Commerce Club.
He has a knack for choosing and arranging the songs that you just want to sing along to, mashed up in unexpected ways, with saxophone solos that make him stand out among solo artists. Rich brings the energy and excitement of a full band into the package of a solo performer.
Find Rich's original music on Spotify, Apple Music, Youtube, and all other streaming platforms.