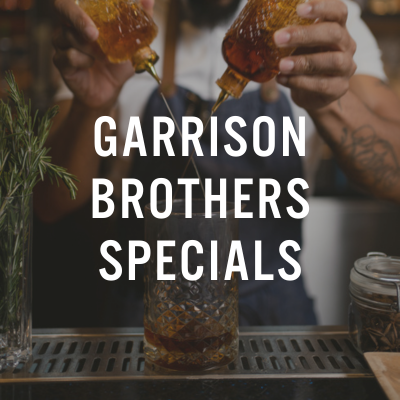 Garrison Brothers Hye Fashioned Specials at Reverence & The Office Bar
Schedule: Friday, September 1, - Saturday, September 30,
Event Information
During the month of September, raise a glass at Reverence and The Office Bar while also raising funds to give back! All month, guests can enjoy our Epicurean take on the classic cocktail: The Earl Fashioned featuring Garrison Brothers Small Batch Bourbon, Earl Grey Tea Syrup, Angostura Bitters, Scrappy's Cardamom Bitters, and served over a big rock ice cube with an orange peel. While enjoying The Earl Fashioned cocktail, guests can also enter to win amazing prizes – all while raising funds and awareness for Boot Campaign!
TASTE & TOAST BOURBON'S MOST-PRIZED COCKTAIL: THE OLD FASHIONED
The Garrison Brothers Hye Fashioned Takeover is a month-long initiative celebrating America's favorite classic cocktail: The Old Fashioned. By partnering with mixologists across the United States, these tastemakers will get the opportunity to showcase their mixology love for bourbon by putting their own spin on this noteworthy masterpiece using Garrison Brothers Texas Straight Bourbon Whiskey.
These limited-time offerings during Bourbon Heritage Month will be heavily promoted by Garrison Brothers Distillery and regional media partners in each market leading up to and during the month of The Garrison Brothers Hye Fashioned Takeover including but not limited to social, digital and print.
Garrison Brothers Bourbon is born and bred in Hye, Texas — a town in the heart of the Texas Hill Country. Our premium bourbon is handcrafted using only the world's finest gourmet-grade ingredients; yielding a dark amber nectar that's richer and smoother than any other bourbon on the planet. Experience the perfect blend of tradition and innovation with the classic old fashioned, elevated to new heights with the addition of Garrison Brothers Texas Straight Bourbon Whiskey.
RAISING A GLASS AND RAISING FUNDS TO GIVE BACK
Consumers are encouraged to participate in the Garrison Brothers Hye Fashioned Takeover by visiting participating bars and restaurants in their area, taking a photo of the old fashioned the account is featuring, and posting it to social media. Consumers should tag and follow @garrisonbros and @bootcampaign along with #hyefashioned. For every picture posted with the hashtag #hyefashioned, Garrison Brothers will donate $2 to Boot Campaign.
By posting and using the hashtag #hyefashioned, the consumer is entered into a drawing to win a custom Garrison Brothers prize package. There will be no limit on the number of entries and 10 winners will be chosen at the end of September.
Boot Campaign's mission is to unite Americans to honor and restore the lives of veterans and military families through individualized, life-improving programs.