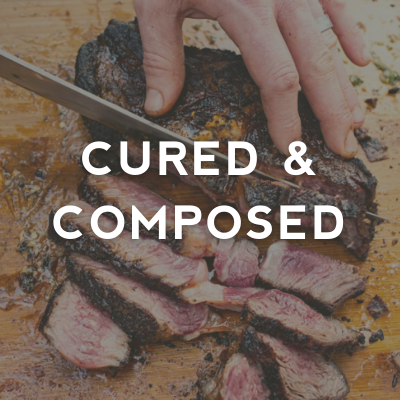 Cured & Composed
Schedule: Thursday, May 26, 7:00pm - 9:00pm
Price: $100
Tickets Available: 34
Venue: Epicurean Theatre
Event Information
Let's face it, we all love a good charcuterie board. While cured meats and charcuterie – from salami and sausages to crepinettes and pates – can certainly shine on their own, one butcher is leading the charge on educating meat-lovers to incorporate these fine ingredients into cooking. Led by Atlanta's meat maven, Kevin Ouzts of the Spotted Trotter, learn about not only the process behind making fine cured meats, the importance of using responsible methods and local ingredient, but also unique and innovative ways to celebrate the flavor profiles in charcuterie in more composed dishes. Get ready for wine, charcuterie's finest friend, and delight your palate with this four-course exploratory into charcuterie used in composed cooking.
MENU:
Introduction (1st course)
Carrots, Shallots, Peas, Beets
Ensuing (2nd course)
Mushroom, Bone Marrow, Sheep's Milk Cheese
Terzetto (3rd course)
Lamb, Fava Bean, Truffle, Potato, Onion
Quartern (4th course)
Sweet Cream, Strawberry, Mint
ABOUT THE CHEF: KEVIN OUZTS
Kevin Ouzts is the Executive Chef/Owner/Charcutier of The Spotted Trotter Charcuterie, which he opened in June 2009 after an inspirational education at The Fatted Calf and The French Laundry in Northern California. A graduate of Le Cordon Bleu and former sous chef under James Beard Award Winning Chef Linton Hopkins at Restaurant Eugene, Chef Ouzts describes The Spotted Trotter, his first business opened in 2009, as a labor of love concentrating on "Making Good Food The Right Way" by prioritizing the use of humanely-sourced proteins and sustainable ingredients from in and around the Southeast. Ouzts produces some of the finest New American Charcuterie™ in the country – In his shop in Atlanta Georgia Kevin and the entire Spotted Trotter team create New American Charcuterie™ which includes Southern-inspired salami made with Black Pepper and Sorghum, Toasted Peanut, Cayenne, Pecan and Mayhaw. They also create fresh sausages, crepinettes, pates, and rillettes, just to name a few – all are instantly recognizable because of his mantra of focusing on the "details' ' in good meat and making it the right way. Chef Ouzts is certainly on his way to giving America and the South a powerful voice in the world of charcuterie, long-dominated by Europe and the Northeast. Currently you can find The Spotted Trotter Boutique Batched Charcuterie and meats in all 50 states as well as Delta First Class flights to Europe, Independent Retailers across the US, Georgia Tech's Bobby Dodd Stadium, Mercedes Benz Stadium, W Hotels, Ritz Carlton and the Mandarin Hotel Group to name a few of their current partners.
PARKING
Complimentary 3-hour valet validation is provided.
PRICE
Ticket Price: $100
*Gratuity is already included in ticket price. Tax will apply during checkout.
*Third party ticketing sites are not affiliated with Epicurean Atlanta. Only tickets purchased on-property at the hotel front desk or online at www.epicureanhotelatlanta.com are valid for entry.